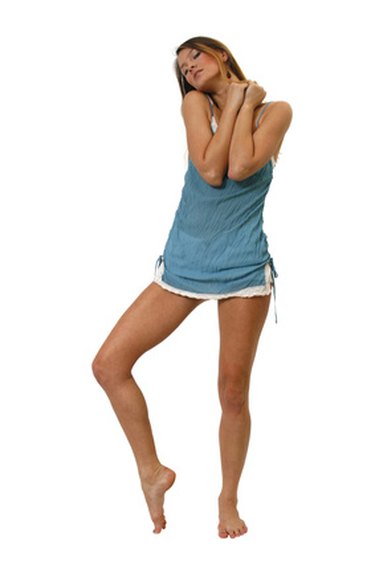 A full body picture is often required for personal portraits, professional head shots or jobs based on appearance or body type. Taking an attractive full body picture requires a different technique than three-quarter pictures or pictures of the face. A full body portrait will provide an accurate representation of the subject while showing the most flattering aspects of the subject's body. Posing the subject appropriately and spacing the shot in equal proportions will flatter the subject and create an excellent full body picture.
Step 1
Set the scene of the photo. Put up a backdrop, move to an outdoor setting or decorate with props. The scene will change depending on the mood required of the photo. A full body shot can be an action shot, or a shot of the body standing at rest.
Step 2
Prepare a candid moment or pose the person appropriately. For candid shots, the subject should be as unaware of your presence as possible. While the subject goes about her business, discreetly follow her and snap pictures. For a posed picture, position the subject's body in a natural and flattering position. If the photo is for professional purposes, leave the subject's arms at her sides.
Step 3
Focus your lens. Check to see that the subject's entire body is in view.
Step 4
Leave equal amounts of space above the subject's head and below the subject's feet. Leave equal amounts of space on either side of the subject's body. If one area of the photo has more space then another, the photo will appear unbalanced.
Step 5
Snap several photos while in position. Reposition the subject and take several more. Have multiple options prepared for the subject to choose from.
Tip
Keep full body pictures for professional purposes simple. Provide a backdrop with colors that compliment the person's skin tone and clothing. Consider using black and white film.