Things You'll Need
Terra cotta pot

Ceramic glaze

Paintbrush

Sponge

Wooden craft stick

Kiln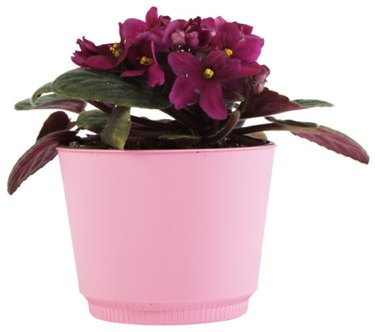 If you enjoy planting flowers in clay pots, you can make your pots look more beautiful and elegant by glazing them with ceramic glaze. You can purchase ceramic glaze from an art supply store, which can be painted or sponged onto a plain terra cotta pot that has been single fired. A single-fired terra cotta pot has been fired in a kiln only once and can be identified in stores by its unglazed appearance. Once your pot has been glazed, you can plant your flowers and plants in it to show off your creativity.
Step 1
Place a terra cotta flower pot onto a flat surface.
Step 2
Paint ceramic glaze onto the pot using a paintbrush. Painting on ceramic glaze allows you to add on wispy strokes and to cover large areas on the pot.
Step 3
Paint ceramic glaze onto the pot using a sponge. Sponging on ceramic glaze allows the pot to look speckled and spotted.
Step 4
Dip a wooden craft stick into ceramic glaze, and use it to draw lines and shapes onto the pot.
Step 5
Fire the terra cotta pot in a kiln for a few hours until the glaze is baked on.