Things You'll Need
Unpainted pottery

Acrylic paints

Paintbrushes

Clear glaze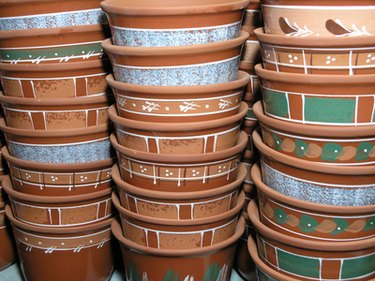 You do not need a kiln or other special equipment to design beautiful pottery at home. Painted figures can add color to your home, while decorated flower pots can liven your garden or patio. Use acrylic paint on pieces sculpted with an oven-bake or air-dry clay. Craft and specialty stores also sell a variety of pre-made ceramic pieces that you can paint at home.
Step 1
Wash your pottery gently to remove any dust or debris from its surface. Allow the pottery to air dry before painting on it. Do not wash pottery made from air-dry clay; instead clean it with a dry paper towel if necessary.
Step 2
Paint large areas a single color using a wide, flat brush. Always wash and dry your brush thoroughly before switching to a different color. Allow the base layers to dry before moving on.
Step 3
Paint details and designs over your base colors using smaller brushes. If you make a mistake, wait for the area to dry, then paint over it.
Step 4
Wait while the paint dries completely. This can take a few hours if you applied multiple or thick coats.
Step 5
Cover your work with a layer of clear glaze. This will seal the pottery and help prevent the paint from chipping off.
Tip
Spread a layer of newspaper over your workspace for an easy cleanup.
For detailed designs, it can help to draw on the pottery with a pencil before painting. You can also use stencils.
Try using a sponge to give a different texture to your design. Artificial sponges, such as kitchen sponges, will give a consistent pattern. Natural sea sponges will produce a more varied texture.
Warning
Pottery painted with acrylics will not be safe for food or drink.