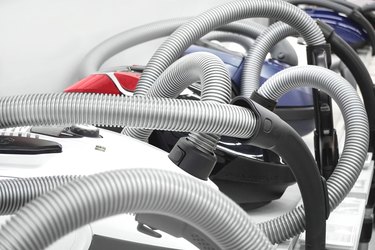 Leaves, debris and grass can quickly pile up in your yard during the fall months. One solution for cleaning up leaves and other small debris is to use a shop vac with a blower port. Shop vacs are powerful vacuum cleaners that can quickly suck up leaves, dirt and other small objects. Turning your shop vac into a leaf vacuum can save you time and provide you with an effective tool that can be used throughout your yard.
Choosing the Right Shop Vac Attachments
To turn your shop vac into a leaf vacuum, you will need to attach the correct attachment and choose the proper setting. For small leaves, the best attachment is the crevice tool which can get corners and small spaces to pick up small leaves quickly.
For larger leaves, use the hose or brush attachment. The hose attachment is excellent for reaching large leaves that are in hard-to-reach places such as between trees or under rocks. The brush attachment is perfect for picking up larger leaves.
A shop vac with a blower function actually reverses the air flow; rather than vacuuming into the machine, it blows air out. In essence, this blower feature is not much different from the function of a leaf blower. Using the blower feature on your shop vac will allow you to blow the leaves into a pile; you can then switch the shop vac back to its vacuum setting and suck up the leaves. The blower feature is also great for getting rid of pesky leaves that are stuck in between rocks or in tricky-to-reach places. If you have a lot of leaves to clean up, using your hose and the blower setting could save you a lot of time.
Best Shop Vac for Outdoors
There are many different types and brands of shop vacs on the market, so it can be tricky to choose the right one. When choosing a shop vac for cleaning leaves, keep a few things in mind.
First, decide what style and functionality you want in a shop vac. There are handheld shop vacs, canister shop vacs and wet/dry shop vacs. Handheld shop vacs are great for small jobs like cleaning up your car or getting rid of pet hair. However, they may not be adequate if you are hoping to move large piles of leaves.
Canister shop vacs are more powerful and can easily vacuum up larger debris like leaves. Wet/dry shop vacs are the most powerful type of shop vac and can be used for both wet and dry messes. This is the best choice if you are dealing with large amounts of heavy, wet leaves.
Shop Vac Price Considerations
Finally, you need to consider the price of the shop vac which range in price from $30 to $300. If your budget can handle it, you can splurge on a wet/dry shop vac. However, if you have a small budget, a large-sized handheld shop vac could be a good option. If it is battery-operated, be prepared you'll likely need an extra battery and charger, or to pause and recharge the unit periodically during leaf removal.
If you typically pay someone else to do your leaf removal, the purchase of a shop vac can save you money in the long run, although there is still the labor of running the vac, of course. Leaf removal can cost an average of $400 to $1,000 per acre (or more, depending on the concentration of trees on your property).