Things You'll Need
Hammer

Cotton or polyester batting

Upholstery foam

Scissors

Bread knife

Pencil

Upholstery fabric

Pins

Sewing machine

Staple gun or upholstery nails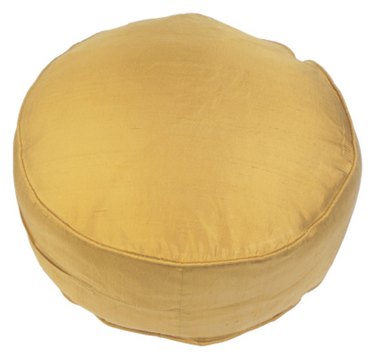 Recover round cushion stools to coordinate them with the style of your kitchen or dining room. Choose upholstery fabric like vinyl for a diner feeling and easy cleaning. Choose velvet to swank up a bar area. Consider whether you want to maintain the thickness of the existing cushion or replace it with something taller and firmer. Keep in mind that recovering thick round seat cushions requires some sewing ability, whereas you can outfit thinner cushions with just fabric and a staple gun.
Step 1
Remove the old covering. Turn the stool upside down and remove the screws attaching the seat to the legs if necessary. Pry loose the staples attaching the fabric covering to the seat using the back of a hammer. Remove any upholstery nails in the same manner.
Step 2
Examine the condition of the seat cushion and the cotton or polyester batting covering the cushion. Reuse them if they are not severely damaged. Discard disintegrating, misshapen or severely battered materials.
Step 3
Make a replacement cushion. Trace the circular seat bottom onto a new piece of foam. Cut the foam with a bread knife if it is thick or scissors if it is thin.
Step 4
Attach the foam to the seat bottom. Cut a piece of batting large enough to cover the foam cushion and wrap 1 inch under the edge of the seat bottom. Staple the batting in place on the underside of the seat bottom with the staple gun, ensuring that the foam cushion stays in the center of the seat. Avoid covering the screw holes with batting.
Step 5
If your seat cushion is less than 2 inches thick, cut a piece of upholstery material large enough to cover the seat plus 1 1/4 inches. This gives you enough material to wrap it around to the underside of the seat bottom and cover the batting.
Step 6
If your seat cushion is more than 2 inches thick, cut a circle 1/2 inch larger than the seat cushion from the upholstery fabric. Cut another strip of fabric 1 3/4 inches wider than the depth of the seat cushion and 1 inch longer than its circumference. Make the strip of fabric into a cylinder by overlapping its ends 1/2 inch with the right sides of the fabric facing together and sewing a straight seam with the sewing machine. Attach the cylinder to the circle by sewing the fabrics with their right sides facing together, using a 1/2-inch seam allowance. Turn the cushion cover right-side out.
Step 7
Place the fabric or the cushion cover over the batting and cushion. Pull it tightly and secure it to the underside of the seat bottom with the staple gun. Alternatively, fold the raw edges under and use the upholstery tacks to secure the upholstery. Avoid covering the screw holes.
Step 8
Attach the recovered seat cushion to the stool using the original screws.