Things You'll Need
Drop cloth or old newspapers

Elastomeric (rubberized) waterproof coating

Small paintbrush or roller

Acrylic paint

Laminate sheets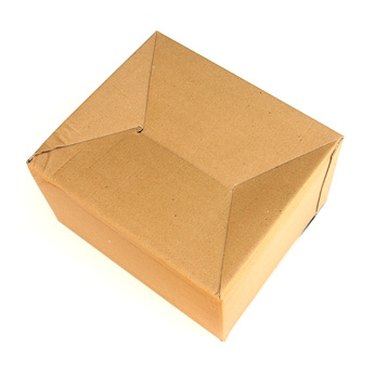 Cardboard is a heavy-duty paper with many uses, including signs, boxes and art projects. Although it's a strong material, cardboard will soften and collapse if exposed to water. To protect the cardboard from damage, there are a few ways to make it more resistant to water. For small cardboard pieces, such as posters and signs, laminating with plastic is a good choice. To protect a larger object, the same rubberized coating used to waterproof roofs and concrete is an option.
Waterproof Coating
Step 1
Prepare your work area. Work outside or in a well-ventilated space to avoid fumes from the coating that can be dangerous if inhaled. Place a drop cloth or old newspapers on the ground to protect the surface where you are working.
Step 2
Apply the rubberized coating. Use a small paintbrush or roller to spread the coating paint over the cardboard. Cover both sides.
Step 3
Allow the coating to dry. Leave the cardboard in your work area so it can dry completely. The instructions on the coating material should offer guidelines on how much drying time is needed.
Lamination
Step 1
Buy self-laminating sheets in the correct size. Lamination sheets are found in most office supply stores in a variety of sizes. Sheets must fit the entire cardboard area you want to cover.
Step 2
Place the cardboard between the two plastic sheets. One of the two sheets will have an adhesive backing.
Step 3
Peel the backing off the adhesive side of the laminate sheet. Smooth the adhesive side down. Align the two sheets to fit smoothly over the cardboard. Press the sheets firmly together for a few seconds for a secure hold.
Tip
Once cardboard has been waterproofed, it can be painted or decorated. The coating paint is usually available in only white, gray or black. Once the cardboard is dry, use a colorful acrylic paint to decorate it.