Things You'll Need
Balsa wood

Craft knife

PVA glue

Cork mat

Cardboard tube from a toilet roll

A large washer or similar disc with a central hole

Acrylic paint

Paintbrushes

LED light

Transparent-colored top from a deodorant or similar product

9-volt battery

Wires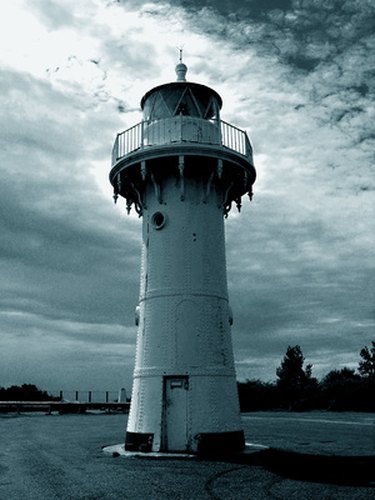 Lighthouses provide warnings for sailors travelling close to the shoreline. They also let the sailors know that they are home. There is a huge amount to be learned about lighthouses, from the different light patterns they use to communicate with ships to the paint with which they are painted. Building models can be a useful way to learn about lighthouses. It can be a lot of fun to create, too.
Step 1
Construct a small box from balsa wood that will sit beside the tower of your lighthouse. This will house the battery used to power the LED. Use a craft knife to accurately carve one side of the house so that it will fit snugly against the tower. Leave openings for wires.
Step 2
Cut triangular pieces of balsa wood and construct a roof for the house by using PVA glue and the craft knife. This roof should always remain detachable so that changing the battery in the future doesn't create a problem.
Step 3
Cut a base from a cork mat for everything to stand on by using the craft knife. You may also use wood or any other material as a base.
Step 4
Cut a smaller square out of the base of the cardboard tube where the house will be attached. This allows for wiring the LED. Glue the large washer to the opposite end of the tube.
Step 5
Paint all of the parts of your lighthouse with your desired design and colors. Leave the parts to dry.
Step 6
Assemble the lighthouse. Secure the LED at the top of the lighthouse. Feed the wires down the tower, out through the cut in the base of the tower and into the house. Attach the battery to the wires. Place the roof on top of the lighthouse. Glue all of the pieces together and attach them to the base. Place the transparent-colored deodorant lid on top of the tower.
Tip
Test the size of the components so they all fit neatly together.