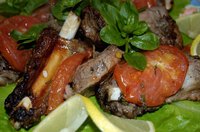 Keep the napkins handy when you eat country-style pork ribs. These are the meatiest of all the ribs and are often called "fork-and-knife" ribs. When cooked properly, the ribs are full of flavor; cooked in a roaster, the low heat seals in the juices. After you learn to cook ribs in the roaster, you'll look forward to the smells of spicy, slow-roasted pork wafting through the air before you sit down to a meal of country-style ribs dripping with a spicy sauce.
Things You'll Need
2 to 3 lbs. boneless country-style pork ribs
1 tbsp. garlic salt
2 tsp. fresh-ground black pepper
Medium saucepan
1 cup ketchup
1/2 cup packed brown sugar
1/2 cup chili sauce
2 tbsp. apple cider vinegar
2 tbsp. liquid smoke
1 tbsp.lemon juice
Wooden spoon
Cooking brush
Tongs
Meat thermometer
Cutting board
Knife
Fit the roaster rack into the electric roaster and preheat to 450 degrees F.
Sprinkle both sides of ribs with garlic salt and pepper.
Combine the ketchup, brown sugar, chili sauce, apple cider vinegar, liquid smoke and lemon juice in a medium saucepan. Bring the ingredients to a boil and then simmer over a low heat for approximately 10 minutes, stirring occasionally with a wooden spoon.
Place the ribs onto the rack, bone side down and baste the ribs with the sauce.
Allow the ribs to brown, turning them with tongs after approximately 15 to 20 minutes. Turn the roaster temperature down to 250 degrees F.
Turn the ribs every 30 minutes with tongs and baste with more sauce. Cook ribs for approximately 1 hour or until cooked through. To test for doneness, insert the meat thermometer into the thickest part of the rib away from bone. The USDA recommends cooking pork to an internal temperature of 160 degrees F.
Transfer the ribs to a cutting board and use the knife to separate the ribs before serving.