Things You'll Need
1/4 cup citric acid

2 1/2 cups baking soda

1 cup Epsom salt

Bowl

Essential oils

Witch hazel

Spray bottle

Bath bomb mold

Plastic wrap or airtight containers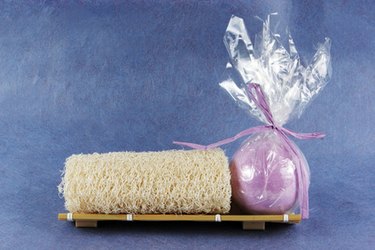 Bath bombs are a way to pamper yourself and can help you relax. Bath bombs contain a bicarbonate and acid mixture. When these ingredients become wet, they react with each other and fizz. Essential oils are added to provide a scent, and Epsom salts are added to help hydrate the skin. You can make your own bath bombs at home and give them as gifts to friends, neighbors and family members.
Step 1
Combine 1/4 cup of citric acid, 2 1/2 cups of baking soda and 1 cup of Epsom salt in a bowl. Mix the ingredients together well.
Step 2
Moisten the dry ingredients with your choice of fragrance oil. Add 5 to 10 drops of essential oil, but be careful not to oversaturate the mixture.
Step 3
Place the witch hazel in a spray bottle. Spritz it over the bath bomb mixture and stir the mixture with your hand. When the ingredients stick together as you squeeze them, you can pack the mixture tightly into the molds. Form the mixture quickly because it will harden.
Step 4
Allow the bath bombs to sit in the molds for three to five minutes. Tap them out carefully and allow them to air dry for four hours.
Step 5
Wrap the bath bombs with plastic wrap or store them in an airtight container to protect them from moisture.
Tip
Add a colorant designed for bath bombs. You can purchase these dry pigments at most craft stores.
Pack the bath bombs into ice cube trays if you do not have a bath bomb mold.
Warning
Avoid adding too much witch hazel because the mixture will start to react and fizz.