Things You'll Need
Tape measure

15-pound asphalt building paper

Utility knife

Staple gun or hammer tacker

1/2-inch Hardie board

Carbide-edged scoring knife

Level or straightedge

Power drill & screwdriver bit

2-inch backerboard screws

Fiberglass-webbed joint tape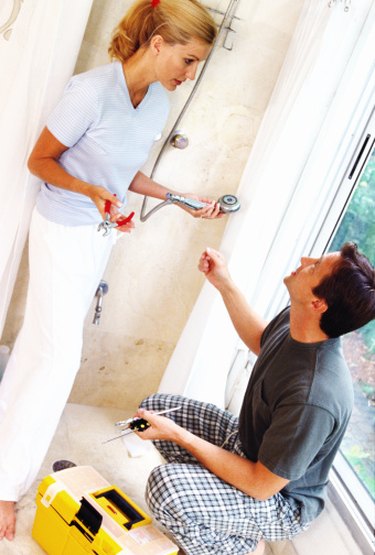 Hardie board, which is often referred to as Hardiebacker or backerboard, is a thin cement-reinforced sheet used as the underlayment for stone or ceramic tile. Hardie board is lightweight, easy to cut to size, and its abrasive surface bonds well with all tile adhesives. Whether Hardie board is applied over drywall or directly to the wall framing, the standard procedure will prepare the walls and ensure a solid base for the tile installation.
Step 1
Apply continuous horizontal strips of 15-pound building paper over the wall studs, beginning with the lowest level and lapping each successive strip over the previous layer. The lap between the strips of building paper should be approximately 3- to 4-inches. Attach the building paper to the studs with a staple gun or hammer tacker, keeping the inside corners tight to the framing. Apply the paper to the ceiling line or just above the planned height of the tile installation.
Step 2
Install the first sheet of Hardie board horizontally, beginning with the bottom edge approximately 1/4 inch above the shower floor's surface or the top surface of the bathtub ledge. The horizontal sheet of Hardie board should be continuous from corner to corner across the shower wall or be cut to length so that any necessary end joints are fully supported by a wall stud.
Step 3
Trim the Hardie board sheets, as needed, by marking the desired cutline with a straightedge and score the line several times with a scoring knife. Apply a downward pressure on one side of the scored cutline and lift slightly upward on the nearest edge of the board to break the board at the cutline.
Step 4
Secure the Hardie board sheets to the wall framing with backerboard screws using a power drill. Place the screws approximately 8 inches apart in the field and within 2 inches of each edge. This is the standard fastening pattern for Hardie board sheets. Additional fasteners can be added, if necessary, for solid support.
Step 5
Repeat steps 2, 3 and 4 to complete the Hardie board installation to the shower walls.
Step 6
Cover each of the end and side seams between the Hardie board sheets with webbed fiberglass tape to complete the wall preparation for the tile installation.
Tip
For added tile support and waterproofing of the wall surfaces, water-resistant sheetrock should be installed beneath the Hardie board layer.