Things You'll Need
Large bowl

1/4 tsp. liquid dishwashing soap

Sponge

1/4 cup borax

Lemon juice

Old toothbrush

1 tbsp. table salt

Fresh lemon

Distilled white vinegar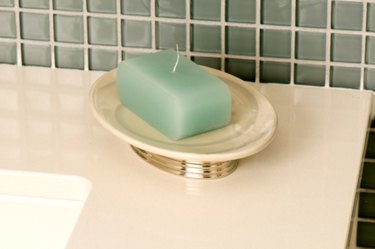 Used to cover both floors and walls, tile is attractive and easy to maintain. Most of the time, nothing more than mild soap and gentle scrubbing is required to keep tile looking its best. However, occasionally, tile is exposed to materials that cause unsightly stains. Rust is one of the more common stains to find on tile surfaces. Caused by exposure to appliances or fixtures with iron parts, rust stains can be a bit stubborn. While there are a number of commercial rust removers designed to remedy this situation, there are a few simple homemade cleansers that you might want to try first.
Step 1
Wash the discolored area prior to attempting a stain removal procedure. Pour 1 qt. hot water into a large bowl. Add ¼ tsp. mild, liquid dishwashing soap and stir briskly, until suds begin to form. Dip a sponge into the soapy water. Place the sponge over the rust stain and scrub vigorously. Rinse the soap away by sponging the area with warm water. Pat the tile with a clean towel to dry.
Step 2
Pour ¼ cup borax into a small bowl. Add just enough lemon juice to form a thick paste. Spread the paste over the rust stain. Scrub the paste gently with an old toothbrush, working it into the rust. Do not rub too hard or you will scratch the tiles. Wait for the paste to dry, then wipe the residue away with a damp cloth. Repeat if necessary.
Step 3
Treat any remaining stains with a mixture of lemon juice and salt. Sprinkle 1 tbsp. standard table salt over the rust stain. Cut a fresh lemon into wedges. Hold each wedge above the salt and squeeze gently, allowing the juice to flow from the fruit to the stain below. Wait four to five hours and then wipe the salt mixture away with a dry paper towel. Alternatively, the lemon juice can be replaced with distilled white vinegar, as both substances are weak acids.