Things You'll Need
29-inch square board or table top

Coarse grit sandpaper

Medium grit sandpaper

Fine grit sandpaper

Damp cloth

Pencil

Ruler

Old newspaper

Painter's masking tape

Black spray paint

Craft knife

Sponge brush

Wood stain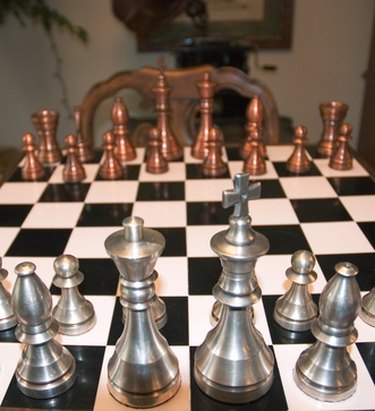 Entertain a friend on a lazy afternoon with a game of chess or checkers on your own painted game board. A game board made from solid wood and protected with varnish will with stand years of heavy game playing. Preserve your painted board to hand down as a keepsake for other family members. With some careful measuring you can craft a game board to delight friends and family.
Step 1
Sand the tabletop or the board smooth with a low grit sandpaper. Start with a coarse grit sandpaper and work your way to a fine grit sandpaper. The board should be smooth and flat to the touch. Wipe away sawdust with a damp cloth.
Step 2
Measure a 20-inch square in the center of the board. Mark the square by drawing a ruler. There should be 4 1/2 inches around the perimeter of the square. If working with a table, surround the legs with old newspaper and secure with masking tape.
Step 3
Cover the entire board with masking tape. Trace over the square on the table on top of the tape. With a ruler and pencil draw a squares; eight across and eight down to fill the entire 20-inch square. Each small square should be 2 1/2-inches wide and high.
Step 4
Cut out the alternating squares. Keeping the corner squares cut, cut out every other square in each row. Lightly press the craft knife through the masking tape to cut out the squares.
Step 5
Spray the board. Working in a well-ventilated area, spray the open squares. Use a broad sweeping motion to coat the squares evenly. Allow to dry thoroughly. Apply another coat for a solid color. Let the paint dry to the touch.
Step 6
Remove the masking tape carefully around the remaining squares. With a sponge brush, apply wood varnish with an even coat to seal the paint. Let the board dry for 24 hours before using.
Tip
Avoid pressing the craft knife deeply into the wood as you cut out the squares, as it can score the wood and damage the table.
Try stamping the squares out of a square rubber stamp instead of spray painting for a more rustic look.
Warning
Work in a well-ventilated area when working with chemicals of any kind to avoid ingestion.
Wear leather gloves to prevent against paint stains and cuts.