Things You'll Need
18 oz. barbecue sauce

½ cup orange juice

9-inch-by-13 inch pan

½ rack of ribs, 7

Aluminum foil

Broiler pan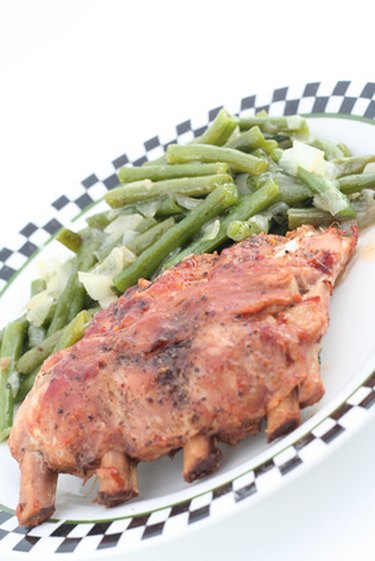 Broiling is great for steaks and some other meats, but ribs should be falling-off-the-bone slow-cooked. Nothing beats the flavor of charred pork or beef cooked just right. To combine the two flavors, slow-cook the ribs and then charbroil them afterward. This will give you the crispy outer coating with a soft-textured meat that will fill your mouth with juices with every bite. Just add your favorite barbecue sauce and you will have a meal to share with your friends, or better yet, just for yourself.
Step 1
Preheat the oven to 300 degrees F.
Step 2
Mix 18 oz. barbecue sauce and 1/2 cup orange juice in a 9-by-13-inch. Place the ribs into the mixture and coat both sides well.
Step 3
Cover the pan with aluminum foil.
Step 4
Place the covered pan in the oven and bake the ribs for one hour.
Step 5
Remove the ribs from the oven and flip them. Place the pan back into the oven for one hour.
Step 6
Remove the ribs from the oven. At this point the ribs are cooked and are about to fall off the bone. Now, you will want to broil them to give the ribs a crispy outer coating.
Step 7
Take the ribs out of the pan and place them in a broiler pan. Save the leftover juices in the pan you baked the ribs in. Set the oven to "Broil."
Step 8
Spread the leftover sauce onto the top of the ribs, and place the broiler pan in the oven about 5 inches from the broiler element.
Step 9
Broil the ribs for six to seven minutes.
Step 10
Remove the ribs from the oven, flip them, add more sauce and place them back into the oven for another six to seven minutes. Remove the ribs and serve.