Things You'll Need
Drill

Screwdriver

AA batteries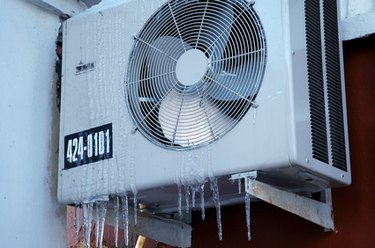 Installing a Honeywell Pro TH4000 programmable thermostat can help you achieve savings in your home cooling costs. The Pro TH4000 allows you to store up to seven days of programming. It also features a backup battery to ensure your thermostat will not get unprogrammed in the event of a power outage. The wiring of a TH4000 will vary depending on your heating and cooling system, but the most common setup is a one-heating-and-one-cooling system.
Step 1
Install the thermostat wall plate. Line up the plate so the wiring of the thermostat comes out in the middle of the wall plate. Use the drill to screw it in with the included screws.
Step 2
Connect the red cable to the RC screw and tighten it with screwdriver.
Step 3
Connect the white cable to the O/B screw, tighten it with screwdriver.
Step 4
Connect the yellow cable to the Y screw, tighten it with screwdriver.
Step 5
Connect the green cable to the G screw, tighten it with screwdriver.
Step 6
Connect the live cable to the C on the back of the thermostat. The live cable can be identified by the label "24VAC" on the wire's insulation.
Step 7
Test to see if the thermostat is working. Do not insert the batteries if you have removed them. You are going to test it to make sure its getting power from the wires and not the battery.
Step 8
Insert the two AA backup batteries if the test confirmed your wiring job was successful.
Step 9
Push the thermostat in the wall plate so the pins fit in the wall plate.