Things You'll Need
Cloths

White vinegar

Tape

Plastic wrap

Bleach or acetone

Baking soda

Hydrogen peroxide

Toothbrush

Cultured marble polish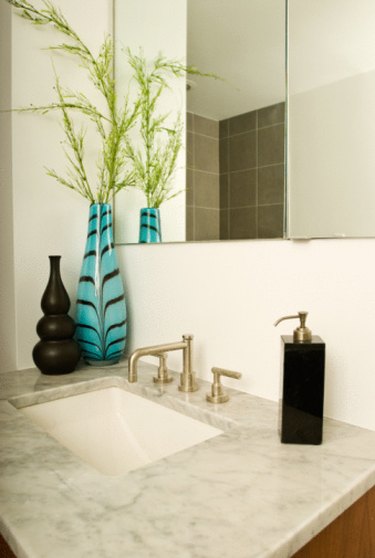 The look of marble is beloved for its unique grain patterns and its history of use in classical architecture and sculpture. Synthetic marble, also known as cultured marble, is made of resin and crushed marble and is a common, economic alternative to natural stone. Synthetic marble sinks, shower pans, countertops and other furnishings are highly durable; however, staining is possible. Remove ugly blemishes on polish cultured marble to restore and maintain its lustrous appearance.
Step 1
Place a cloth over the stain. Spray the cloth generously with white vinegar. Tape plastic wrap over the cloth and leave the vinegar to soak for several hours. Vinegar will remove light stains, such as mineral stains. Rinse the vinegar thoroughly after removing the cloth.
Step 2
Place a cloth over the stain and saturate it with bleach for light cultured marble and acetone for dark cultured marble, if the stain persists. Cover with plastic and leave it to sit for several hours. Bleach or acetone will fade difficult stains, such as ink stains.
Step 3
Scrub the stain with a paste made of baking soda and hydrogen peroxide, using a toothbrush, if the stain persists. Leave a thick layer of the paste to sit over the stain and then tape plastic on top. Leave the plastic until the paste dries. Baking soda and hydrogen peroxide paste is especially helpful in removing food stains.
Step 4
Rub the bowl by hand with cultured marble polishing gel using a dry cloth. Allow the gel to dry and cloud up and then buff clear with a dry cloth. Reapply polishing gel periodically to maintain the protective coating.