Things You'll Need
400-grit sandpaper

Liquid deglosser

Rag

Polyurethane gloss

Foam paintbrush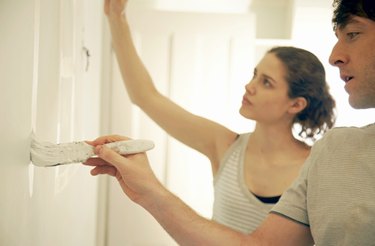 Whenever you paint a room, it's a good idea to get a little extra paint and store it for later. This smart tactic makes touch-ups much easier, as you don't need to match the color and sheen all over again. Of course, not everyone takes this precaution, and in some cases even using old paint isn't good enough. Paint's sheen can change over time as the paint ages or objects rub against the wall's surface, and your touch-up coat may not match well enough.
Step 1
Read the paint can's label to see how long the paint takes to cure. Before you attempt to change the sheen, it's important that you let the paint fully cure. Paint dries in just a couple of hours, but it can take upwards of 24 hours to fully set. You may find that the sheen matches better once the paint has had enough time to cure.
Step 2
Sand a sheen that is too glossy with 400-grit sandpaper. This ultra-fine sandpaper removes a little bit of the outer gloss without abrading the paint. After light sanding, the painted surface will be more matte.
Step 3
Apply liquid deglosser to high-gloss wall surfaces, using a rag, but only if your wall is painted with enamel or epoxy paints. Certain paints will react poorly to deglossing agents, but this method works well on most enamels and epoxies. Consult the deglosser's label to make sure it is approved for use with the type of touch-up paint you used. Let the liquid deglosser sit on the surface for five minutes.
Step 4
Wipe off the deglosser, using a clean rag. The topmost layer of gloss will wipe off along with the liquid deglosser solution, giving the surface a matte sheen.
Step 5
Apply polyurethane gloss to an overly matte surface, using a foam paintbrush. If your touch-up paint is too matte, polyurethane coatings add a glossier sheen. Polyurethane gloss comes in a number of sheens, but the two basic types are semigloss and high-gloss. It's best to start with a semigloss and then apply a coat of high-gloss only if the semigloss still isn't shiny enough.