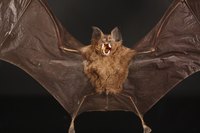 The bat bug belongs to the blood-sucking insect family Cimicidae. It feeds on bats and inhabits human living quarters when bats roost in attics or inside of walls. Bat bugs are primarily bat-feeders; however, they will bite humans in the absence of their preferred host. Even though they cannot sustain or reproduce without bats, bat bugs can live a long time before they die. To rid your environment of these bothersome creatures, use an integrated approach of host-removal and insect destruction.
Things You'll Need
Professional pest management
Pyrethroid insecticide
Vacuum
Sealable plastic bag
Remove bats from your home. Ohio State University cautions that bats are non-game wildlife and cannot be legally killed. Check with your local department of wildlife for legal bat removal options. I may be necessary to hire a professional pest management company.
Treat bug infested areas with a pyrethroid insecticide such as, deltamethrin, bifenthrin and beta-cyfluthrin. The treatment should be concurrent with bat removal. Colorado State University suggests using aerosol bombs or sprayers for crevices or high places that may be hard to reach.
Perform basic sanitation procedures to eliminate bugs that may not have been destroyed during the pesticide treatment. Wash bedding and clothing in hot water, and vacuum your carpet, mattress and furniture often. Immediately empty the vacuum bag into a sealed plastic bag and throw it in an outdoors garbage bin.