Things You'll Need
Liquid marinade or dry seasonings

Plastic storage bag

Grill brush

Vegetable or olive oil

Tongs or spatula

Meat thermometer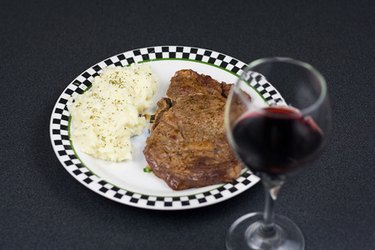 Ribeye steaks are flavorful and tender, and they cook quickly over high heat on the grill. When you grill a steak, it needs cooked to the appropriate temperature to reach the desired doneness. Steaks are cooked to rare, medium and well-done, as well as other degrees of doneness. A medium steak has a temperature range between 135 and 145 degrees F. Season the steaks with your preferred marinades or seasonings so that they suit your tastes.
Step 1
Season the ribeye steak with liquid marinade or dry seasonings. Place the steak into a plastic storage bag. Refrigerate the steak for 8 hours to allow the seasonings to soak into the steak.
Step 2
Drain and discard the marinade or juice inside the plastic bag. Allow the steak to sit out at room temperature for 1 hour.
Step 3
Heat the grill to medium-high heat. Clean the grill with a grill brush to remove dirt and burned debris from the grates. Coat the grates lightly with oil.
Step 4
Light the charcoals and allow them to burn so that a gray ash forms. Light a gas grill by turning the knobs to the medium-high heat.
Step 5
Place the ribeye steak onto the grill. Close the lid on the grill and allow the steak to cook for 3 minutes. Flip the steak over with tongs or a spatula and cook it for another 3 minutes.
Step 6
Insert a meat thermometer into the thickest part of the steak to see whether the temperature is close to 135 degrees F. A steak will continue to cook and the temperature will raise by 5 to 10 degrees once you remove it from the grill.
Step 7
Remove the steak from the grill once it reaches the desired temperature range. Allow the steak to cool for 5 minutes and then serve it.
Warning
Do not allow the thermometer to touch the bone in the steak or you will have an inaccurate reading.