Things You'll Need
Water

Dish soap

Soft cloth

Clear glass glue

Thin paintbrush

Diamond file

Water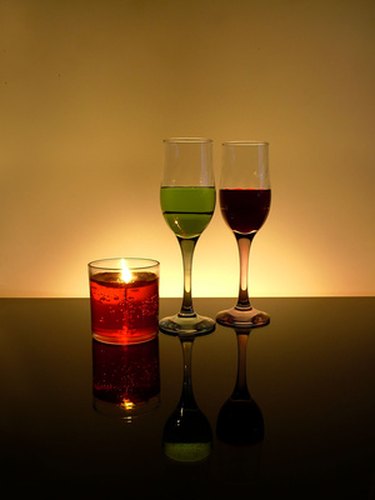 Glass stemware includes delicate pieces that can crack or chip at any time for any reason. Both of the occurrences require immediate repair so the damage does not get worse, preventing a repair from being possible. Collect the materials you will need and take your time fixing the delicate glasses.
Repair Chipped and Broken Stemware
Step 1
Wash and dry the stemware.
Step 2
Locate the cracked or chipped area, and then apply the clear glass glue. Use a thin paintbrush to get the glue deep into the groves of the damage. Allow the glue to dry for an hour. Carefully fill in any chipped areas with the clear glue if the chipped piece cannot be found.
Step 3
File the glued area and other sharp, rough edges with the flat side of the diamond file.
Step 4
Even out the repaired area with the rounded part of the file.
Repairing the Glass Stem
Step 1
Place the bottom of the stem on a flat surface. Turn the top part of the stemware upside down, the opening of the glass face down, on a flat surface so that it does not roll around the table.
Step 2
Add a dab of clear glue to the top of the broken surface, and then quickly place the top part of the stemware on the stem base so it appears whole again. Hold it tightly to help the glue bond the two pieces of the stemware together.
Step 3
Release the glass after several minutes and allow the glue to continue to set.