Things You'll Need
Broom

Dustpan

Garden hose

Pool-water testing kit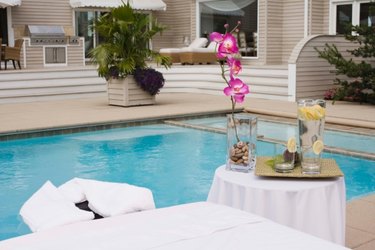 Swimming-pool owners, at one time or another, will need to completely drain, then refill the swimming pool. Companies are available to bring pre-balanced water directly to your empty pool; however, in most cases it is less expensive to fill the swimming pool yourself. Filling a swimming pool with a garden hose is a slow process, and in most cases will take more than a day. When filling the pool, it is very important that you do not turn your pump and filter on until the water is at the appropriate level to avoid damaging them.
Step 1
Clear any debris from the bottom of the pool prior to filling. If desired, sweep the bottom of the pool, then remove all dust and dirt with a dustpan.
Step 2
Place a garden hose into the pool, then turn on the spigot and let the pool fill.
Step 3
Continuously monitor the water level as the pool is filling.
Step 4
Turn off the water when the water level covers approximately half of the skimmer in the side of the pool wall. The skimmer is the square or rectangular opening used to clear debris from the water.
Step 5
Turn on the pump and filter to begin circulating the pool water.
Step 6
Test a sample of water using a pool-water testing kit, or bring a sample of your pool water to a pool-supply store for testing.
Step 7
Add chemicals as needed to balance the levels of your pool, or hire a pool-maintenance company to maintain the levels of your water on a regular basis.