Things You'll Need
White or green Styrofoam ball

Flat-head pins

48 2.5-inch fabric squares

Fabric ribbon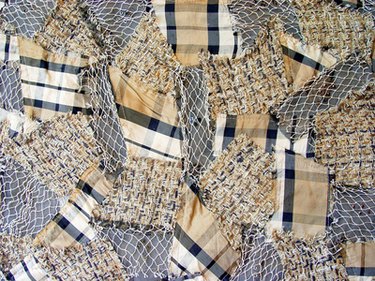 A fabric pinecone is a suitable craft for the winter holidays for ornaments or decorations. You can make these fabric pinecones from any material you wish in any color and design. A small Styrofoam ball used for arranging flowers will work for the base of the pinecone.
Step 1
Fold the fabric squares diagonally and then in half. Your square should now look like a small triangle.
Step 2
Place one unfolded square over the top of the ball. Pin each corner into the Styrofoam. Repeat with another flat square on the bottom of the ball.
Step 3
Place one folded square toward the top of the ball. Pin down the left corner of the square.
Step 4
Place another folded square on the ball and this time pin down the left side of the new fabric while simultaneously pinning down the right side of the first square.
Step 5
Repeat these steps around the top layer of the ball.
Step 6
Place another square on the second row. This time place the first square of row two so that the corner of the square is between your original first and second square. Continue this pattern for each row until you reach the bottom of the ball.
Step 7
Add a ribbon bow to the top of the pinecone for added decoration.