Things You'll Need
Safety goggles

Rubber gloves

Ventilation mask

Drop cloths

Lacquer thinner

Clean cloth

Brush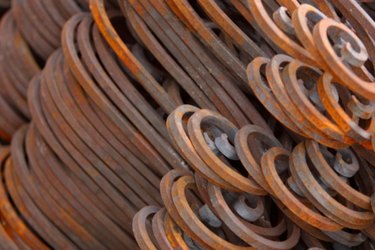 Cast iron is a strong material that is durable and resilient and used to manufacture numerous items found in the construction of buildings and around the home. Cookware, furniture, doors, lamp posts, beams found in buildings and bridges are often made of cast iron. Furniture, buildings and bridges constructed of cast iron may be painted to match the surroundings. A paint thinner, such as a lacquer thinner, is required to remove paint from cast iron if desired. The area should be properly ventilated and protective gear should be worn when handling chemicals like lacquer thinner.
Step 1
Wear protective clothing and gear including rubber gloves, safety goggles and a ventilation mask.
Step 2
Place drop clothes under and around the cast iron to protect the floor from accidental spills.
Step 3
Moisten a clean cloth with lacquer thinner. This solvent can be found at most paint and hardware supply stores.
Step 4
Wipe down the paint with the moistened cloth. Rub the lacquer thinner into the paint to soften it.
Step 5
Reapply lacquer thinner to the cloth and continue to wipe down the paint until it is completely removed.
Step 6
Scrape the softened paint from the iron using a brush.
Step 7
Wipe down the cast iron with a dampened cloth.