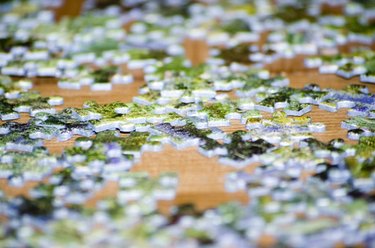 When you are interested in creating a jigsaw puzzle that contains your own photo, it is necessary to contact a puzzle maker. Some puzzle makers will pay for the use of your original photo. If you are unable to find a puzzle maker who wants to pay for or use your photo, you can still turn your photo into a jigsaw puzzle. Though the world may never see your custom puzzle, it will become a keepsake that you and your family can cherish forever.
For Pay
Step 1
Ensure that you have a right to sell the photos. The photos must be your own original images.
Step 2
Contact puzzle manufacturing companies to determine whether or not unsolicited photos are accepted. A few major puzzle manufacturing companies are Master Pieces, Drescher Puzzles and White Mountain Puzzles.
Step 3
Submit the photos to the puzzle maker, according to the company's submission guidelines. For instance, you may be required to submit the photos through postal mail or email.
If you are required to submit the photos via postal mail, do not submit your original images. Instead, send duplicates. Include your name, address and telephone number with your submission. This allows the puzzle maker to contact you, if there is an interest in your photos.
Step 4
Wait to hear from the puzzle maker. Depending upon the company, this can take weeks or even months. Due to the massive amount of submissions the puzzle maker receives, the company may not have time to send out individual rejection letters. However, if there is an interest in acquiring your photos, the company will contact you.
Step 5
Avoid contacting the puzzle maker over the telephone to determine whether or not your photos are received or liked.
Custom Keepsake
Step 1
Access a resource that allows you to submit photos for custom jigsaw puzzles. A few online resources that allow you to do this are Venus Puzzle, Portrait Puzzles, JigSaw2Order, Piczzle, Jigsaw Puzzle, JigZone and MGC Puzzles.
Step 2
Select the option to create a new custom puzzle. Upload the photo from your hard drive, that you would like to use for your jigsaw puzzle.
If the photo you would like to use is stored on digital camera, connect the camera to your computer with a compatible USB cable. Click your Windows "Start" button. Select "Computer" or "My Computer." Click the icon for your digital camera to choose the photo you would like to upload.
Step 3
Customize your jigsaw puzzle even more, by choosing a size for your puzzle. Decide how many pieces you would like your puzzle to be. This is also referred to as the "puzzle cut." The more pieces in your puzzle cut, the more expensive your custom puzzle will cost. For instance, a 15-piece puzzle may cost between $15 and $25, depending upon the puzzle maker. A 1000-piece puzzle may cost between $50 and $100, or more, depending upon the puzzle maker.
Step 4
Use a valid credit card to submit payment for your custom jigsaw puzzle. Your custom puzzle will be shipped to you. The exact shipping time will vary by puzzle maker.