Things You'll Need
Heavy-duty denim snaps

Snap setting tool

Fabric marking pen

Pencil with eraser

Hammer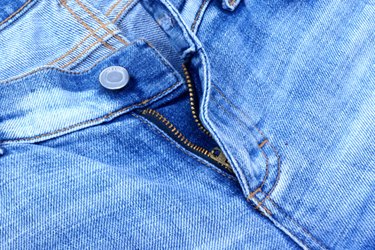 Attaching snap buttons to denim may seem both tedious and challenging, but in fact, you can complete this task yourself, at home. Whether you want to replace a snap button on a favorite pair of jeans or need a snap button to complete a unique craft project, with the proper materials, you can learn how to put snap buttons on denim in a few simple steps.
Step 1
Place two marks onto the denim with a fabric marking pen. One dot represents the spot that the snap prong will be located and the other represents the location of the corresponding button. Make sure that these two marks match up, so that the snap prong and button can later be snapped together and function properly.
Step 2
Decide on which mark you want the snap, and on which mark you want the button to be located. Put the snap head onto the fabric, directly onto one of the marks.
Step 3
Begin to push the prongs through the denim. Press down on each prong, using a pencil eraser. This will help the prongs to easily go through the denim, without risking injury to your hands, according to crafts website Little Birdie Secrets.
Step 4
Position the corresponding snap piece over the prongs.
Step 5
Place the protective cover tool on top of the snap, to prevent damage to the snap when you hammer it into place.
Step 6
Hold all pieces in place and turn over the portion of the denim cloth with which you are working. Make sure you are working on a hard surface to allow the snap button pieces to set straight. Lay the other tool over the back side of the snap.
Step 7
Hit the prong side of the snap with a hammer two to three times to allow the pieces to properly set.
Step 8
Attach the bottom, corresponding button for the snap on the remaining mark you made in Step 1. Repeat Steps 3 through 7 to properly attach the bottom side of the snap.
Tip
Four total parts make a complete snap button: there is a top button, a snap prong and corresponding attachments to both.
Heavy-duty denim snaps, snap setting tools and fabric pens can all be found in craft stores.
Snap buttons usually come in packs of multiples with duplicates in each pack.