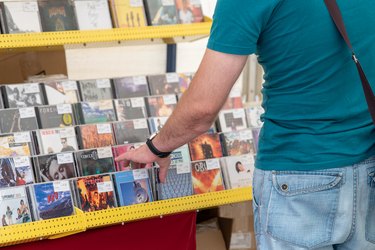 CDs aren't totally obsolete, but most households have plenty of old CDs that will never be used again. If you have CDs that aren't even worthy of the donation bin, consider transforming them into decor items. There are two different approaches to painting CDs: opaque paint designs, which are more successful when you prime the shiny plastic surface of the CD, and transparent paint designs, for which you need to remove the label from the CD and work with its clear plastic part only. Both offer endless creative possibilities, and you can make fun craft projects for all ages and levels of artistic skill.
Preparation for Painting CDs
Before you start a CD-painting project, take a little time to plan your design on paper. Trace around a CD on paper, including the center hole, and sketch your design with a pencil or crayons. You might also use stencils or printed templates to help create the design you desire.
Look online for ideas and inspiration. Some designs take advantage of the CD's shape – for example, depicting circular fruit slices or mandalas – but others treat the CD like any other blank canvas.
Acrylic paint and paint pens are both suitable for painting CDs, but the shiny plastic surface makes it somewhat difficult to achieve an opaque finish. It can be done with several layers of paint and considerable patience, but getting an opaque finish is much easier if you prime the surface first. Do this by roughing up the shiny plastic side of the CD with sandpaper or by applying a coat of brush-on or spray-on primer. Even better, you can do both, sanding first and then applying primer. Let the primer dry before painting.
After priming, you can paint the CD with acrylic paints or paint pens as you would any other surface. Lightly sketch outlines with a pencil before painting CDs if you wish and consider using permanent markers in conjunction with the paints as well. Apply multiple coats of paint for the most opaque finish, letting each coat dry before applying the next. You might speed up the drying stage by using a hair dryer. Make your design last longer by finishing with a coat of clear varnish, which comes in shiny and matte versions.
A popular approach to painting CDs is to first remove the printed label, leaving you with a clear plastic disc ideal for designs that feature transparency. To remove the label, scratch into it with the point of a knife or other blade, firmly stick a piece of clear tape over the scratch and firmly tug the tape upward. The label should come off cleanly with the tape. Use more strips of tape to remove the rest of the label.
You shouldn't prime a clear plastic CD, as it will ruin the transparency. Simply apply acrylic paint with a paintbrush or use paint markers directly on the plastic surface. A benefit of this method is that you can place a printed or hand-drawn paper design directly underneath the clear CD and trace it onto the CD. Even with multiple paint layers, you should still be able to see light shine through the paint when you hold the painted CD up to a window or light.
Painted CDs make excellent holiday ornaments, as you can hang them by putting clear thread through the hole. Clear plastic CDs with transparent painted designs make ideal suncatchers to display in a window, especially if you create stained-glass-inspired art with thick black outlines. The shape of a painted CD makes it ideal to use with clock kits. You can also glue a felt or cork backing onto painted CDs and use them as coasters. Painted CDs could also be hung as mobiles.