High rollers and jet setters are the name of the game when it comes to having a Las Vegas-themed party. Wear something that says you are ready to belly up to the bar with Frank Sinatra or Wayne Newton. Be ready to live a little. A party that celebrates the Las Vegas lifestyle is a chance to go all out and dress up in your most glamorous Vegas-themed party outfit. So glam up, grab a martini, and put it all on black!
That Slinky Little Black Dress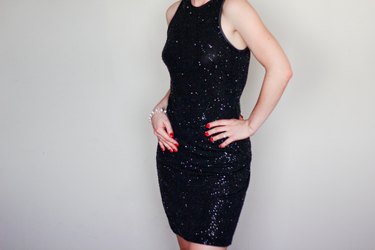 Choose glamorous clothes, such as a slinky black dress or something covered in gold or black sequins for the perfect Vegas-themed party outfit. Select a dress or skirt that is either above the knee or floor length. Think about a deck of cards when choosing colors. Black, red and gold will work. If you don't own a lot of evening wear, head to your local thrift store where you can find dressy outfits for a small price.
Accessorize. Wear black hose and high heels. Add bold, glittery and flamboyant touches. If you don't have a collection of Tiffany jewelry, don't despair. Rhinestones glitter just like diamonds. Wear big, flashy items -- and lots of them.
Exaggerate your hair and makeup. Put your hair up to say classy and sophisticated; an up-do will hold that rhinestone tiara and show the trinkets around your neck and in your ears. Or wear your hair long and loose for a wild and sexy look, but be sure your hair doesn't cover all of your jewelry.
Wear smoldering makeup. Use dark, smoky eyeshadow and liner, bright blush, and red lipstick to stand out in a crowd and rival the neon glow of the strip. Be bold. Up the ante with fake eyelashes for movie star moxie, and smooth on some fine gold body glitter to make your skin shine.
Vegas-themed Party Outfits Start With Black
Find out ahead of time what your date is wearing, and plan accordingly. If she is wearing a full-length sequined gown, wear a classy tuxedo. Rent one, borrow one, or scour the thrift stores. It should be snazzy -- even a little over the top to create the perfect Vegas-themed party outfit. Think Putting on the Ritz and James Bond. Be bold -- wear that white scarf and top hat.
If you can't get a tux, choose a nice, well-fitting suit in colors that will complement what your date is wearing. Watch a few Cary Grant movies to get the feel of real style, or check out what celebrities are wearing on the red carpet and to the roulette table.
Accessorize with gold cuff links, a large gold ring, and sunglasses to top off that high roller impression. Stay away from oversized gold chains. Go for stylish, not crass. Polish your shoes until they shine, and tuck a neatly folded handkerchief into the breast pocket.
Carry some Vegas-friendly items in your pockets, such as a set of dice to have lovely ladies blow on for luck. Keep extra playing cards up your sleeve. Carry high value chips to wave around, or have a roll of monopoly money, preferably large bills, sticking out of your pocket to add to your Las Vegas attire.