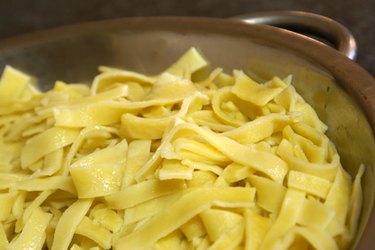 Dough for homemade egg noodle contains flour, salt, water and egg, with an extra portion of egg yolk. After rolling into thin sheets and cutting into narrow strips, the noodles dry for several hours before cooking. If you have a pasta maker, use it to mix and form your noodles, using the thinnest template. Yet, even the pasta maker noodles require drying before cooking.
Step 1
Lay one or more clean, dry cloths on a flat surface, such as a kitchen table or counter. The number of towels to use will depend on how many noodles you need to dry.
Step 2
Arrange the noodles on the towel, in a single layer.
Step 3
Allow the noodles to dry, which will take about two hours. Noodles should be stiff and dry. Drying time varies, depending on the humidity and temperature.
Tip
Some people use their bed for drying noodles, after covering with a clean, dry cloth.
Warning
Keep curious pets away from your drying noodles.