Things You'll Need
Random orbital sander

Belt sander (optional)

Handheld paint scraper

Hammer

Nail set

Screwgun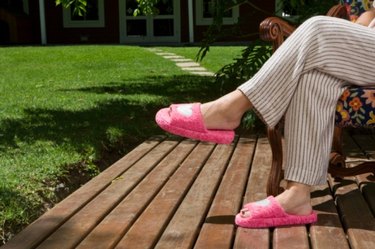 Your deck provides an outdoor gathering place in seasonable weather, but painted deck boards can age and the paint can peel over time, leaving you with a less-than-optimal floor surface. You can sand off the paint and the top layer of wood to reveal fresh-looking decking. After sanding the old paint away, you can repaint or seal the deck boards for a new look.
Step 1
Prep the deck for sanding by sinking any screws or nails that have worked out of the deck. Use a nail set and hammer or a screwgun to re-sink the heads beneath the surface of the floor.
Step 2
Use a belt sander or a random orbital sander to sand the paint off the deck floor. If the deck boards are level, you can use an orbital sander, but if the boards have warped, use a belt sander.
Step 3
Start with a medium-grit sanding disk for an orbital sander or a medium-grit sanding belt for a belt sander.
Step 4
Sand in the same direction that the deck boards run. A large orbital sander can sand one or more boards at one time, but a belt sander will sand each board individually.
Step 5
Hold a power sander tightly but do not press the sander into the deck boards. Turn the sander on and let it do the work while you guide it down one board and back on the next board.
Step 6
Move the sander at a constant pace to remove the paint and smooth the surface of the wood without creating depressions in the deck boards.
Step 7
Switch to a fine-grit sanding disk or belt and make another pass over the deck after you've removed all the surface paint with medium grit. Proceed in the same manner along the length of the boards from one side of the deck to the other.
Step 8
Scrape away hard-to-reach paint beneath railing or on the edges of deck boards with a handheld paint scraper, and sand those areas by hand, with folded sandpaper or a foam sanding block.
Tip
Use a leaf blower to blow away paint dust and chips after sanding.
Repaint or apply a wood sealer to your deck boards to protect the wood from weathering.
Warning
Use power sanders with care. Follow manufacturer's safety recommendations.
Practice using a power sander on a scrap of wood before sanding the deck floor.