Things You'll Need
Toothpick

Florist foam

Watercolor paint

Paintbrush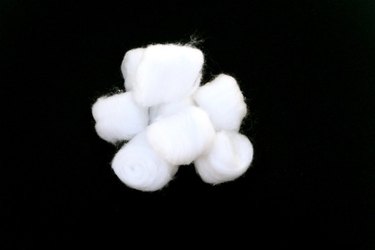 When you are making crafts with children, it is helpful to use craft materials that are simple to manipulate, and pleasing to handle. For example, basic cotton balls can be used as a material to construct any manner of craft pictures, such as snowmen, clouds and flowers. Although the cotton balls can be used in their plain white state, they can also be painted with watercolor paints to make them useful in a colored form as well.
Step 1
Insert a toothpick into a cotton ball.
Step 2
Insert the other side of the toothpick into a piece of florist foam.
Step 3
Dilute 1/4 tsp. of watercolor paint in a bowl with 2 tbsp. of water. Select any color you prefer.
Step 4
Wet a watercolor paintbrush. Dip it into the diluted watercolor paint.
Step 5
Tap the watercolor-filled paintbrush onto the outside surface of the cotton ball. Saturate the ball with the diluted watercolor paint.
Step 6
Allow the watercolor paint to dry completely.