Things You'll Need
White vinegar

Paper towel

Food coloring

Bowls

Tongs or slotted spoon

Empty cardboard tubes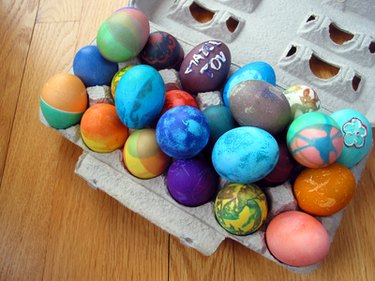 Dying boiled eggs is a popular Easter tradition. If you intend to eat the eggs after coloring them, you must first chill the boiled eggs in the refrigerator overnight. Dying cold eggs will inhibit the growth of bacteria that could cause illness.
Step 1
Rub the outside of the eggs with a vinegar-soaked paper towel to remove oil from the shell.
Step 2
Bring ½ cup of water per dye color to a boil over high heat.
Step 3
Combine ½ cup boiling water, 1 tsp. vinegar and 10 to 20 drops of food coloring in a bowl to create each color.
Step 4
Submerge a cold egg into the dye and let it soak for five minutes.
Step 5
Fish the egg out of the dye with tongs or a slotted spoon and put it into the end of an upright empty cardboard tube to dry. Repeat with the remaining eggs.
Step 6
Refrigerate the eggs as soon as they have finished drying.