Things You'll Need
7-lb. boneless top round roast

Meat thermometer

Baking dish

Olive oil

Dried lemon peel

Crushed black pepper

Soy sauce

Aluminum foil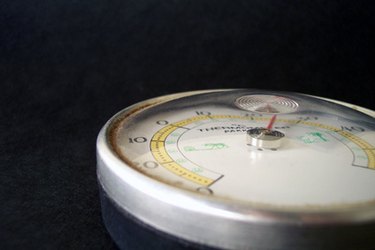 Roast beef is a classic dish that is simple to prepare in principle but tricky to perfect in practice. There is little more to do than put it in the oven for the right amount of time at the right temperature, but these numbers vary greatly depending on the cut, age and quality of your roast beef. Wit the right direction, you can get a 7-lb. boneless top round roast just right.
Step 1
Let the roast get up to room temperature for at least an hour and preheat the oven to 450 degrees.
Step 2
Brush the roast beef with your choice of seasonings. A good combination is soy sauce, olive oil, dried lemon peel and crushed black pepper. You can also make 1-inch slits into the surface of the roast and insert garlic cloves. For a 7-lb. roast, put about a dozen cloves in.
Step 3
Place the roast in the oven at 450 degrees for about 15 minutes to develop the flavor of the meat, then lower the temperature to 325 degree to roast the inside. For a rare roast, cook for three more hours. For well done, cook for a further 4 ½ hours, and pick a time in between for medium rare, medium or medium well-done. This is an extremely imprecise way to cook, however, and you'll get much better results with a meat thermometer: Remove the roast when the internal temperature reaches 125 degrees for rare, 135 degrees for medium-rare, 150 degrees for medium and 160 degrees or higher for well-done.
Step 4
Remove the roast and let it rest for 15 to 20 minutes tented in aluminum foil before serving.
Tip
If you have another cut of beef, cooking time will vary between 325 and 425 degrees depending on the kind of roast you have (rib-eye roast, sirloin tip, etc.). Please see Resource 1 for the appropriate cooking time for you.
Warning
It is extremely important to use a meat thermometer for a rare roast beef. The USDA recommends cooking beef to at least 145 degrees, which is medium. A rare roast beef is almost certainly safe provided the beef is of high enough quality, but it should definitely be at least 120 degrees.