Things You'll Need
Computer

Printer

Scissors

Glue

Stickers

Colored paper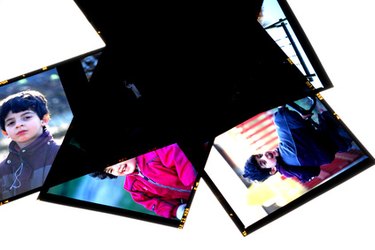 Before they were discontinued in April 2010, Starbucks sold customizable tumblers called "Create Your Own Photo" in which you could print your own pictures and slide them into the plastic through the bottom of the mug. Software designed to make and print collages also made it possible to arrange the photos on one sheet of paper and print it. Having a tumbler with your own photos in it makes a perfect gift or accessory for yourself. Adding photos to a Starbucks tumbler is easy and possible with different programs on the Internet.
Step 1
Use Snapfish, a program Starbucks.com currently has available for anyone's use that allows you to develop a collage of your favorite pictures and print it off for free. Click on the link in resources to get to this particular page -- you will be prompted to sign up for an account on Snapfish. After you sign up, you will have the option of choosing a collage with or without a title, and you can specify if you want the title at the top or the bottom. You can also choose the background color for your tumbler. Furthermore, you can upload as many photos as you wish; however, only seven can be used in the actual tumbler. Once you have typed a title and chosen your pictures, Snapfish will arrange them into a collage and you are ready to print.
Step 2
Use Photoshop or Photoshop Elements. First, download the template in PSD, or Adobe Photoshop, format only. Open the template in Photoshop or Photoshop Elements. Then, copy the graphic you want in your tumbler; this can either be a collage of photos you have put together yourself or one big picture you would like to insert in the tumbler. Using the magic wand, select the entire template and choose "Paste Into" under the "Edit" section. Your chosen photo will be pasted into the template. Continue to save it as a JPEG file and then print it.
Step 3
Make your own photo collage with paper, glue, scissors, stickers and colored paper for the background. Having the chance to decorate yourself instead of through software will give you more of a chance to be creative with your stickers, colors and add-ons. The only downside of this method is that if water does leak into your tumbler, it will spoil your pictures, so it may be a good idea to have extras on hand. You can cut out different designs, add quotes, and make your tumbler extra special with this hands-on method.
Step 4
Once you have printed your collage, to insert it in the tumbler, unscrew the bottom and slide it in. When you screw the bottom back on, make sure it is as tight as possible so that water does not leak into it.
Tip
Keep your tumbler updated with recent photos. You can also coordinate the background colors with the seasons; for example, use red and green for Christmas.
Warning
Be careful when washing your Starbucks photo tumbler because of the fact that it is easy for water to leak through and ruin your collage. Laminate the collage before inserting it into the tumbler.