Things You'll Need
Miter saw

Tape measure

Cardboard

Utility knife

Edge trim

Laminate adhesive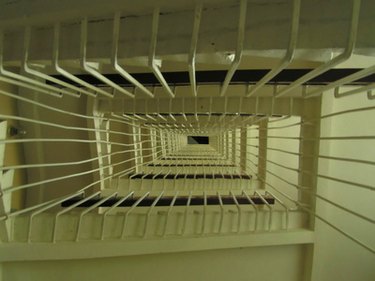 Laminate flooring is an economical way to get the look of genuine hardwood at a much lower cost. Stairs are one of the largest surfaces in your home and choosing what material to cover them with has a big effect on the look and feel of your space. Laminate comes in a wide variety of colors and grains to fit almost any decor. It is easy to install and can even be custom fit to your stair and banister railings. Choose a brand of laminate that has 90-degree corner moldings that will fit into the edge lock of your laminate for an easy stair edge treatment.
Step 1
Measure the width of your stair tread — the horizontal step top — from the wall to the outside end. Measure the depth from the front edge to the face of the vertical riser leading up to the next step. Subtract the thickness of your laminate flooring from the depth dimension, if you are planning to cover risers with laminate as well as treads. Cut a piece of cardboard to the dimensions of your tread.
Step 2
Measure and mark the position and size of any rail spindles on the template. Fold the outside end of the tread template back on itself, folding through the middle of the spindle outline you drew. Cut along this fold to separate the two pieces of your template with a utility knife. Fit the cut template in place around the spindle and make any adjustments needed to make it a snug fit.
Step 3
Measure the longer piece of your template. Mark and cut a piece of laminate so that the laminated face, not including the locking end tongue is the same as the long piece of the template. Place the template on the laminate piece and mark the outline of the cut around the spindle on the end with the end tongue facing out. Cut this outline with the jigsaw. Fit the laminate board around the spindle and press the flat cut end to the wall, with the tongue end fitted around the spindle.
Step 4
Cut a second piece of laminate using the smaller piece of the template as your guide, with the notch for the spindle half, cut into the groove end of the laminate. Fit the groove over the tongue of the first piece and press firmly, locking it in place, around the spindle. Cut a laminate piece to fit against the face of the riser to complete the effect. Repeat this with each step. Cut and install the 90-degree corner trim on the edge of the step for a finished look, locking it into the groove of the laminate pieces around the spindle.
Step 5
Remove the boards and apply a coat of laminate flooring adhesive to the back of each piece with a notch edged trowel. Press the pieces firmly into place and allow 24 hours before allowing traffic on the stairs.