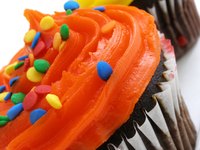 Cupcakes have long been a favorite confection for children and adults alike. But sometimes you don't need the real thing, and a convincing fake is critical to your event decor's success. Bakers use fake cupcakes, which look freshly baked for months, to display their flair for cake decorating. Others use them for home accents, gifts or party favors. With a few craft supplies and kitchen items, you can make a delectable looking cupcake with zero calories and fat.
Things You'll Need
Muffin pans
Cupcake liner
Plaster of Paris
Water
Spatula
Spackle
Plastic bowl
Acrylic paint
Pastry bag
Cake decorating tip
Place a cupcake liner in each cup of the muffin pan. Use a muffin pan with six cups for this recipe.
Use a spatula to mix 3 cups Plaster of Paris with 1 1/2-cups of water in a plastic bowl. Find Plaster of Paris at a craft and art supply store or home improvement store. The consistency of the blend should be thick but pourable. Adjust the consistency if needed by adding more Plaster of Paris or water.
Fill the cupcake liners with Plaster of Paris until they level off at the level of the top of the cupcake liner. Leave the Plaster of Paris to set for 20 to 30 minutes. Wash the bowl to use it for the "frosting."
Pour 2 cups of spackle in the plastic bowl. Add acrylic paint to make it the color you would like. You can adjust the intensity of the color by adding more paint for deep color or less paint for pastel color. Stir the paint and spackle thoroughly. Immediately place the spackle in a pastry bag with a star tip. Start from the outer edge of the cupcake and pipe the spackle on top of the cupcake in a swirl. Use firm, even pressure to force the spackle out of the bag so that you have one continuous flow of "frosting."
Allow the cupcakes 24 hours to completely cure before handling.