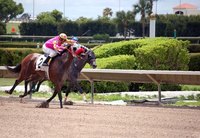 Hosting a Kentucky Derby party is a great way to engage family and friends for a day of fun. Keeping with Derby flavor and its century-old tradition, encourage women and men to wear hats. Hats are deemed good luck charms. Specifically, women should wear wide-brimmed "Southern Belle" hats and men should wear 1920s-era fedoras. Arrange a barbecue and ask guests to bring food and drinks. Building Kentucky Derby betting displays is another way to participate in the glitz and glamour and enjoy the event.
Things You'll Need
Poster board
Markers
Pencils
Pens
Crayons
Glue
Tape
Tack nails
Hammer
Lap tops
Model horses
Money
Betting Slips
Create a poster board betting display. Place a 24- by 36-inch piece of white poster board onto a table. Write the names of all guests down the left hand side of the poster board. Evenly space out the names. Write the names of all competing horses along the top of the poster board. Evenly space out the names. Draw vertical and horizontal lines to create a grid pattern along the face of the poster board. Apply check marks to correspond with guest names and the horse they are betting on. Tack or tape the display to the wall as a visual reference during the party.
Arrange a lap top display by going online to the Kentucky Derby website. Click "Wager" on the main menu bar. Click "New to Wagering" on the next page. Examine the rules and ways to wager. Visit the Twin Spires website – the Derby's official online betting resource page. Create a betting account. Follow instructions and place your bet. Display the lap top during the race to follow odds-making and up-to-the-minute betting information as the event commences. Use multiple lap tops to allow others to display and keep up with the betting process if necessary.
Place small model horses on around a table, each representing one of the day's racing horses. Include the jockey's name, the horse's name and brief description of the horse. Include betting odds as well. Place betting slips and pencils on the table. Encourage guests to fill out betting slips and place their slips beneath the feet of the horse they select. Place a bouquet of roses at the center of the table – roses being the official flower of the Kentucky Derby.