In addition to pottery and plant containers, versatile terra cotta has been used throughout the world for centuries to form sculpture, building materials and cookware. Many crafting projects begin with a simple, unglazed terra-cotta pot. In its natural state, terra cotta is very durable, but it is also porous and subject to cracking in cold weather. To lessen frost damage or use terra cotta for crafts, waterproof it with a protective sealant.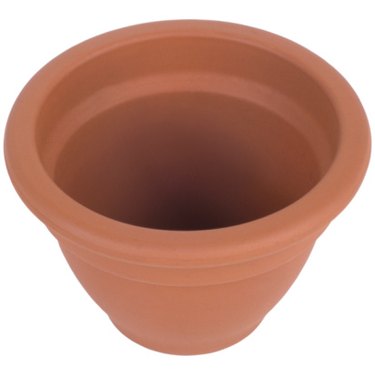 Things You'll Need
Dishwashing Liquid

Water Or Oil-Based Polyurethane Spray Or Nontoxic Sealant For Crafts

Latex Gloves

Wire Brush
Step 1
Scrub the terra-cotta pot with dishwashing liquid and warm water. Use a wire brush to give the inside an extra scrubbing to remove any fungus and caked-on dirt. Set the pot aside to dry thoroughly.
Step 2
Put on gloves, and spray polyurethane spray inside and outside of the pot for frost protection, inside only if you are planning to paint the outside of the pot. Keep your hand moving in order to get an even coat, and work in a well-ventilated area. If you are using a nontoxic craft sealant, follow the manufacturer's directions.
Step 3
Read the label for approximate drying time. When the pot is dry to the touch, give it a second coat.
Tip
Nontoxic sealant can be purchased at art supply stores.
Warning
Do not plant edible fruits or vegetables in a terra-cotta pot that has been sprayed with polyurethane. Frequent watering may cause chemicals to leach into the soil.