Things You'll Need
Ladder

Utility knife

Pry bar

Hammer or mallet

Shims or scrap wood

Pliers

Adhesive remover

Putty knife

Plaster patch or wood putty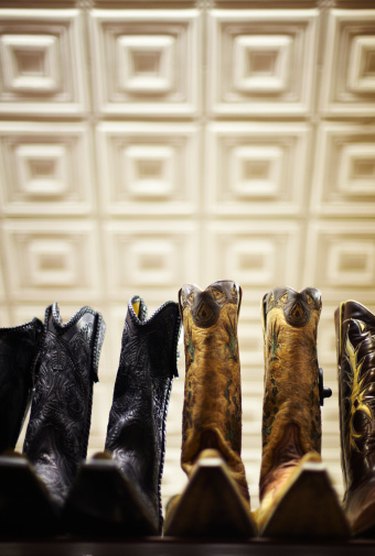 Ceiling moulding, decorative relief strips mounted where walls meet ceilings, can be made of wood, fiberboard or plaster. Ceiling moulding comes in a variety of widths and shapes. Moulding is considered a neat and clean way to "finish" off a room, make the walls seems taller, and add visual interest to the decor. Some home builders make ornate moulding patterns, full of craftsmanship. You may want to remove moulding to change the look of a room or perhaps to hang a different type of moulding. While you can simply rip installed moulding down, this will damage the walls and ceiling as well as the moulding. Instead, take care to remove ceiling moulding properly.
Step 1
Climb a ladder. Look at the ceiling moulding to determine the material. Plaster moulding is likely fastened with adhesive or plaster. Wood moulding is nailed or glued.
Step 2
Cut through the layer of paint where the moulding touches the ceiling and the wall, using a utility knife. Score the edge with the utility knife until the moulding edges are separated from the ceiling and the wall. This ensures the moulding will not pull paint off.
Step 3
Insert a thin pry bar between the moulding and the wall. Use a hammer or mallet to gently tap it until it goes under the moulding.
Step 4
Insert a piece of scrap wood or a shim below the pry bar if you're able to get it in place. This will protect the wall from marks as you try to pry the moulding off. As you tap, push the shims farther up to widen the gap.
Step 5
Work your way down the length of the moulding. Remove the moulding slowly to avoid damaging the wall, the ceiling or the moulding itself.
Step 6
Pull the nails out from the back of the moulding. Use pliers to pry them out. This will preserve the wood better than hammering them from the front.
Step 7
Remove pieces left behind if the moulding was attached with adhesive. Apply an adhesive remover, then scrape the residue off with a putty knife. Patch holes with wood putty or patching plaster.
Step 8
Finish the job by replacing the damaged crown molding; add a new color of paint or a decorative border.
Warning
Do not use a screwdriver to pry moulding off because you can dent the wall or ceiling and split the wood.