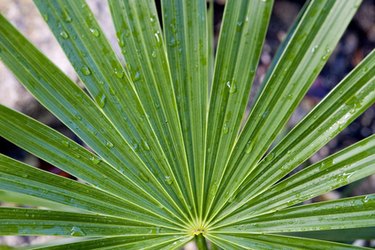 We typically associate Christmas with evergreen branches, holly and mistletoe along with a backdrop of wintery snow. However, many people celebrating and decorating for the holiday live in warmer climates where the greenery is tropical, and the sun shines throughout the season. Take inspiration from these sunny Christmas vibes by crafting a wreath from palm fronds and other tropical-themed supplies. Palm fronds come in many different shapes and sizes, so select appropriate ones for a DIY palm leaf wreath and consider adding visual interest with complementary leaves, flowers or ornaments. The greenery can be fresh, dried or faux versions from a craft store.
Palm Leaf Wreath Supplies
Along with a collection of real or faux palm fronds, a wreath form is essential. These are available in a wide variety of sizes and materials, including craft foam, wire and woven cane or vine. For a giant wreath, use a plastic hula hoop. Woven cane and vine wreath forms are attractive and can remain visible as a design element. With a foam or wire form or a hula hoop, you can either make sure your leaves and other items conceal it completely or wrap the form with floral tape, ribbon or strips of fabric in a complementary color.
You also need floral tape, floral wire or hot glue for securing items to the wreath form. Find sharp scissors or garden shears for trimming the greenery as needed.
Planning a Palm Leaf Wreath Design
Before attaching palm leaves or other items to the wreath form, you should plan the design and practice assembling the items in order. Look at images of palm wreaths online for inspiration and get a rough idea of the designs you want to recreate. You might want to layer palm leaves neatly around the wreath for a minimalist look, perhaps alternating leaves of different colors and textures. Some wreaths feature a single arrangement on one side only or a symmetrical arrangement with two matching sides. For these types of DIY palm leaf wreaths, put together palm fronds, leaves and other items as a small bouquet with the largest at the back and smallest at the front.
In addition to palm fronds, consider including real or faux tropical flowers, such as birds of paradise, plumeria and flowering ginger. Shiny baubles, star ornaments and tropical- or beach-themed ornaments really bring the festive Christmas theme into your palm wreath design. Arrange the palm fronds and other optional elements in front of you and try layering them in different ways until you're happy with the results. It can be helpful to take a picture of your arrangement before reassembling the items on the wreath form.
Assembling a Palm Leaf Wreath
After working out your palm leaf wreath design, it's time to assemble it on the wreath form. The best mode of assembly will depend on the type of form you are using and the design itself. Wrap the wreath form around and around with floral tape or ribbon if that is part of your design. Starting with the back layer of fronds, which will generally be the largest ones, attach the stems to the wreath form by weaving them in and securing them with a twist of floral wire or floral tape or using hot glue. Continue in this manner, adding additional layers of leaves, flowers, ornaments or other chosen items until your design is complete.
Before lifting your DIY palm leaf wreath off the table, make sure all the items are secure and in the right place. Add more glue, tape or wire if needed and hang the wreath from a loop of floral wire or ribbon.