If you live in a tropical or beach-side location, Christmas time may feel different because evergreen trees are often replaced by palm trees. Although you could hang up Christmas decorations that are crated with evergreen branches, such as a wreath, you can make your own Christmas wreath out of palm fronds. Once finished, your palm frond wreath will be both festive and will fit in with the tropical environment.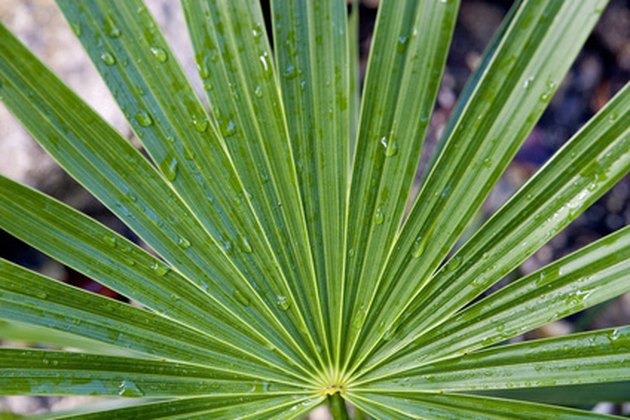 Things You'll Need
Small palm fronds

Pruning shears

Foam florist ring, 18 inches

Florist wire

Hot glue gun

Hot glue stick

2-inch wide red ribbon
Step 1
Cut 15 to 20 small palm fronds each measuring 8 inches long.
Step 2
Place a palm frond against the front of a foam florist ring, and wrap florist wire around the stem of the frond and the foam to secure them together.
Step 3
Add on another palm frond, placing it about 3 inches from the first. Wrap the wire around the stem of the frond as before.
Step 4
Continue adding on palm fronds and wrapping them until the entire ring is filled.
Step 5
Twist the end of the wire into a loop so you can hang up the palm frond wreath.
Step 6
Heat up a glue gun until the hot glue stick has melted.
Step 7
Cut a piece of 2-inch wide red ribbon to measure 12 inches long.
Step 8
Tie the ribbon into a bow.
Step 9
Hot glue the bow onto the front of the palm frond wreath. Allow the glue to cool before displaying the wreath at Christmastime.