Things You'll Need
Sandpaper

Bondo

Putty knife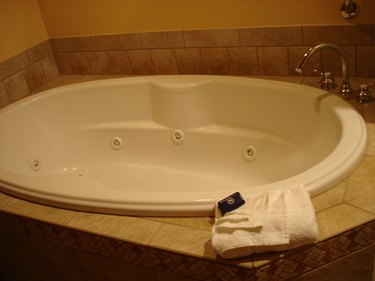 Bondo is a two-part putty made of polyester resin and has many uses. Bondo is mainly used on vehicles for repair but it can be used for repairing cracks in your bath tube. Bondo can be shaped into almost any shape once it has hardened and then it can by primed and painted. You will need a few tools and about 36 hours to repair the crack properly.
Step 1
Allow the bath tub and the cracked area to completely air dry over night before you proceed. Sand the damage area so the it is smooth.
Step 2
Apply Bondo to the crack(s) in the tube. Make sure that the cracks are completely filled. Use a putty knife to spread the Bondo so that it is flush.
Step 3
Allow the Bondo to completely dry for 24 hours. Make sure that no one uses the tub or gets the Bondo wet. Sand the Bondo until it is smooth and flush with the tub.