Carrara marble is one of the most recognized natural building materials in use today. Quarried in the mountains around the province of Carrara, Italy, this gray-and-white stone is used for tile, countertops, tabletops and decorative statues around the world. Like all marble, Carrara is soft and porous and requires care to help maintain its surface texture and beauty. Because Carrara is a light-colored stone, it may show stains and dirt more easily than other types of marble, making it even more important to practice good maintenance. With the right care, Carrara marble can last for years.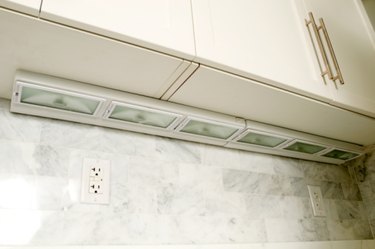 Things You'll Need
Squeegee

Mop

Marble Cleaner

Dry Dust Cloth Or Broom

Chamois

Foam Paintbrush

Enhancing Sealer (Optional)

Impregnating Sealer

Soft Clothes
Step 1
Dust or sweep the marble on a regular basis. Remove surface dirt and debris before it has a chance to get ground into the porous surface of the Carrara. Damp-mop the stone two to three times a week in high-traffic areas to remove more dirt.
Step 2
Squeegee the marble in wet areas, such as showers, after use to prevent too much water from wicking into the stone. Keep the Carrara as dry as possible, wiping up spills as soon as you notice them and using door mats near entryways.
Step 3
Clean the Carrara as needed with a marble cleaner. Spray the cleaner evenly over the entire stone and wipe it dry with a soft cloth or mop to dry it and to remove surface stains. Buff dull spots on the marble with a chamois when cleaning to help restore the stone's shine.
Step 4
Seal the Carrara to help impede staining and absorption of water and minerals. Paint an impregnating sealer onto the Carrara with a foam paintbrush and buff off the excess with a soft cloth or a chamois. Apply a second coat of sealer to help enhance polished or tumbled Carrara, if desired.