Things You'll Need
Dishcloth

White distilled vinegar

Small bowls

Small cooking pot

Orange or lemon peel, whole cloves or cinnamon sticks

Scissors

Old pantyhose

Activated charcoal

Dryer softener sheets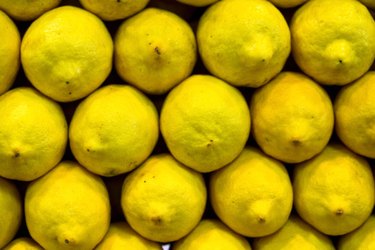 Foods that give off intense aromas while cooking, such as bacon, garlic, onions, cabbage and other foods with strong flavors, can leave your home with an offensive odor. Sometimes the smell lingers for days. You do not have to purchase expensive commercial air fresheners or burn candles constantly to get rid of the lingering smell. Homemade remedies are quite effective in removing the smells. When using these methods, you don't have to worry about using chemicals in your home that may irritate people who are sensitive to the products.
Step 1
Dampen a dish or wash cloth with white vinegar. Wave the towel throughout the air to absorb cooking or smoke odors. You can also set small bowls of vinegar throughout your home to absorb the cooking odors. Once you remove the bowls, the vinegar smell will dissipate within 15 or 20 minutes and the cooking odor will disappear.
Step 2
Place orange or lemon peel, cinnamon sticks or whole cloves and 2 cups of water into a small pot on the stove. Bring it to a boil and then allow it to simmer for an hour or two. Don't let the mixture boil dry, add more water when the water level goes down.
Step 3
Cut off a leg from torn pantyhose. Fill the foot area with your favorite spices, such as cinnamon or whole cloves. Tie the cut end and place the bag inside a heating vent. The fragrance will waft throughout your home.
Step 4
Place bowls of activated charcoal powder around the house to absorb the cooking odors.
Step 5
Tape dryer softener sheets to the outside of your heating vents to create a clean linen smell in your home.
Tip
Open the windows in your home to allow the air to circulate. Run ceiling or window fans to help ventilate the room.
Take the trash outside if it contains leftovers from the meal.