Things You'll Need
Screwdriver

Trisodium phosphate cleanser

Wood glue

Cotton swab

Painter's tape

Dropcloth

Bonding primer

Paintbrush

Medium-nap roller

Light-nap paint roller

Sponge brush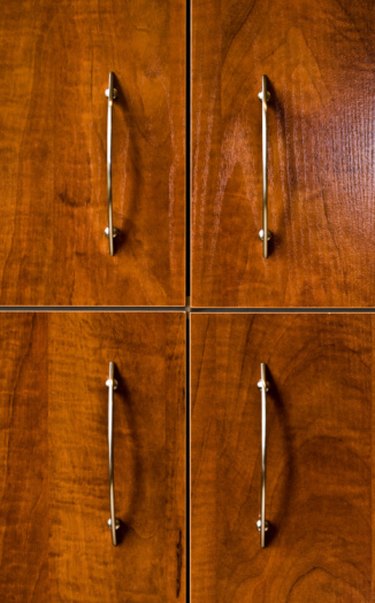 If you want to change the color of your veneer cabinetry, approach the task carefully. Most veneer surfaces are sealed with polyurethane for a glossy finish, and this surface does not accept paint easily. On alternative home improvement projects, gloss is sanded off for better paint adhesion. However, in the case of veneer cabinets, the sandpaper damages the veneer and leads to peeling, so it is not advisable. Fortunately, special primer and proper painting techniques help simplify the process for the DIY homeowner.
Step 1
Remove the cabinet handles, hinges and other hardware, using a screwdriver.
Step 2
Mark cabinets doors and drawers with self-adhesive notes or masking tape. Without proper labeling, you may find that you forgot which door attached to which cabinet.
Step 3
Clean the surface with a trisodium phosphate (TSP) cleaning product. Avoid using other chemical cleansers, as these may dissolve the glue that holds the veneer in place.
Step 4
Work glue in between the gap if part of the veneer is coming unglued, using a cotton swab dipped in wood glue. Press and hold the veneer until the glue dries.
Step 5
Cover nearby trim and wall surfaces with painter's tape, and cover furniture with dropcloths.
Step 6
Apply a bonding primer to the veneer surface with a paintbrush or medium-nap paint roller. Bonding primers work better than general-purpose latex primers on veneer surfaces because they are specifically designed for use on glossy finishes.
Step 7
Apply a coat of oil-based gloss or semi-gloss paint to the veneer cabinets and detached cabinet doors, using a sponge brush or a light-nap roller. This first coat will not provide full coverage, but that is not a problem. Several thin coats provide better results than one thick coat. Wait for the first coat to dry, then add a second coat. Once this coat dries, apply a third coat if necessary.
Step 8
Remove the painter's tape after 48 hours and reinstall your cabinet hardware.