Things You'll Need
Towels

Rags

Gun oil

Cloths

Car wax

Lemon or teak oil

Bucket

Liquid dish soap

Sponge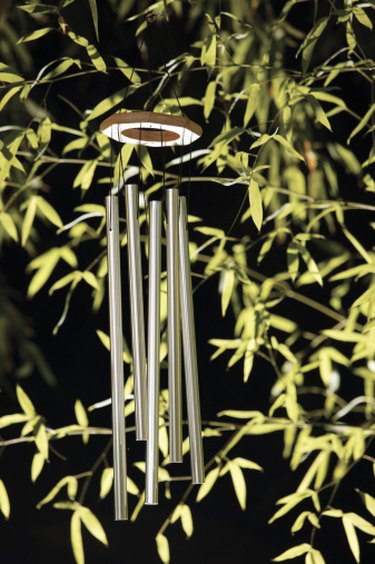 Wind chimes provide a charming melody as they tinkle lazily in the wind. Wind chimes are made from various materials including wood, metal or glass, and over time become coated from outdoor dirt and dust. The grime detracts from the wind chimes appearance, removing the sparkle from glass chimes and dulling the surface on wood or metal chimes. Clean wind chimes properly so you can admire their brilliant shine and their dainty melody.
Metal Wind Chimes
Step 1
Remove the wind chimes from their hanging position. Lay the chimes on an old towel or rag. Wipe dust and dirt from the chimes with a clean rag.
Step 2
Moisten a rag with 2 tsp. of gun oil. Wipe the metal areas of the chimes with the gun oil. Allow the oil to remain on the metal for 5 minutes. Wipe the oil from the wind chimes with a clean rag.
Step 3
Apply 1 tsp. of car wax to a soft cloth. Wipe the wax over the metal areas of the wind chimes to help reduce surface water spots. Place the wind chimes back in their hanging position.
Wood Wind Chimes
Step 1
Remove the dust from the wood surfaces of the wind chimes with a clean cloth.
Step 2
Spray lemon or teak oil onto a clean cloth. Run the cloth over the wood on the wind chimes. The oil moisturizes the wood and leaves a protective coating on the surface.
Step 3
Place the wood chimes back in their original hanging place after cleaning.
Glass Wind Chimes
Step 1
Fill a bucket with warm water and 1 tsp. of liquid dish soap.
Step 2
Place a sponge into the bucket of soapy water and wipe over the glass wind chimes, removing dust and dirt. Maneuver the sponge into tight areas of the chimes to remove hidden grime.
Step 3
Rinse the soap suds from the chimes with clean water and the sponge. Dry the wind chimes with a soft cloth before replacing back on their hook.
Tip
Do not use furniture polish on wood wind chimes.
Clean wind chimes whenever they appear dull and dingy.