Things You'll Need
3 cups soy milk

Medium-sized sauce pan

1 tsp. vanilla flavoring (optional)

¼ cup sugar (optional)

Sterile glass container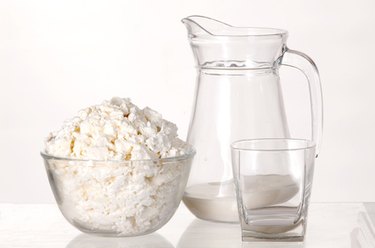 Soy milk is a low fat, high protein milk option for people who are lactose intolerant, allergic to dairy products or who simply have chosen to reduce or eliminate dairy products from their diet. When cooking with soy milk, some recipes require that you use evaporated milk; you may also decide to evaporate soy milk because you prefer the taste. Whatever your reason, evaporating soy milk is a straightforward process that takes approximately 15 minutes to complete.
Step 1
Pour the soy milk into the saucepan and heat on a medium-low setting. Stir constantly as the milk begins to heat up. You want the milk to simmer, not boil, to prevent scorching.
Step 2
Continue to heat the milk until it has reduced in volume to 1 cup. Remove the saucepan from the heat and add vanilla and sugar. Stir the mixture thoroughly to dissolve the ingredients.
Step 3
Pour the milk into a sterile glass container and allow it to cool completely before refrigerating.
Tip
You can use as much milk as desired for this recipe; simply heat the milk and reduce it to 60 percent of its original volume. You can add sugar and flavorings to the milk as desired.
You can safely store your evaporated soy milk for at least one week.