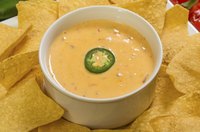 A Tex-Mex classic, chile con queso is a warm cheese dip that's just the right thickness for clinging to tortilla chips. Whether you make the crowd-pleasing party food with canned chile and processed cheese, or go the extra mile by simmering together gourmet ingredients, chile con queso needs to be kept warm for optimal safety and quality. To prevent an unappetizing hard crust -- not to mention bacteria -- from forming, use a slow-cooker to keep the dish at the right temperature for serving guests all day long.
Things You'll Need
Slow-cooker with a lid
Long-handled spoons
Make your chile con queso on the stovetop and transfer it to the slow-cooker, or combine ingredients in the slow- cooker and cook it on low for the amount of time noted in your recipe.
Cover the dip until you are ready to serve it, and return the lid to the slow- cooker whenever possible between servings.
Insert a food thermometer into the center of the dip. The chile con queso is at a safe temperature if it registers 135 degrees Fahrenheit or higher.
Continue to check the temperature every two hours or more frequently. Always use a clean, room-temperature food thermometer.
Stir the cheesy dip frequently to keep the heat evenly distributed and to prevent it from forming a skin on the surface.