Things You'll Need
Measuring tape

White fabric, about 2 yards

Scissors

Velcro

Gold rope or fabric

Cardstock

3D paint

Gold spray paint

Clear tape

Egyptian wig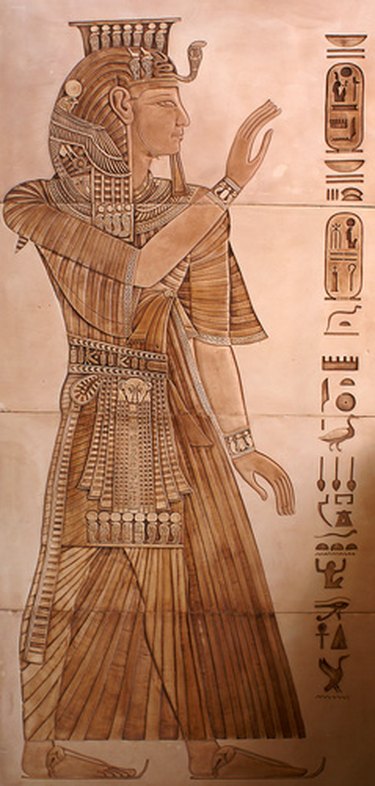 An Egyptian costume is a simple costume to make for children that is inexpensive and takes very little time. It is a perfect last-minute costume for Halloween or any other costume party. The key to making this costume look authentic is in the details. If you add enough details, the costume will look much more realistic than if you keep the cuff and collar designs simple. This project should take about two hours to complete.
Step 1
Measure the distance from the child's neck to the floor. Use this measurement for the length of the fabric. Use the natural width of the fabric for the width of the costume.
Step 2
Fold the fabric lengthwise in half. Cut a semi-circle from the middle of the fabric large enough for the child to stick her head through. You can also add a small slit in the back of the neck if you want a smaller neck hole. Add a small piece of Velcro to keep the slit closed.
Step 3
Tie a gold rope or a strip of gold fabric around the child's waist to cinch the fabric in place and complete the basic costume. Trim any excess fabric so that the costume hits at the child's ankles. You can also make a knee-length costume if desired.
Step 4
Cut a piece of gold fabric about 5 inches thick to a length of about 20 inches. Fold this fabric strip into thirds. Tie the fabric around the child's head for a headband.
Step 5
Cut a 3-inch wide strip of cardstock about ½ inch larger than the child's wrists and ankles. Paint an Egyptian design onto the cuffs with 3D paint. Allow the paint to dry for an hour. Spray paint the cuff gold. Allow the paint to dry for an additional hour. Tape the cuffs onto the child's arms and legs.
Step 6
Make a rounded collar for the costume out of cardstock. Make the collar as wide as the child's shoulders. Create a design on the collar with 3D paint and paint it gold, just as you did for the cuffs. Hold the collar in place with tape, or add a piece of Velcro to keep the collar on. Add a black wig to complete the look.