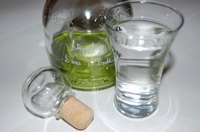 Whether you're needing aromatherapy, alternative medicine, skin care or perfume, essential oils can be mixed with vodka to create a variety of individualized scents that are not only fun to make, but cost effective as well. Essential oils offer numerous fragrance types, such as sweet, oriental, floral, woody and spicy scents to custom fit your lifestyle and personality. They also make great one-of-a-kind gifts.
Things You'll Need
Small glass bottles with lids
Narrow neck glass bottle
Vodka, 100 percent proof
Glass rod stirrer
Liquid dropper
Essential oils
Pour one ounce of vodka into a narrow neck glass bottle.
Add the desired amount of essential oil into the vodka using the liquid dropper.
Mix the vodka and essential oil gently with a glass rod.
Smell the mixture, swirl and smell again.
Add additional drops of essential oil as needed to achieve your desired fragrance.
Pour the finished fragrance into a glass jar and tighten the lid.
Store fragrance in a dark, cool place for 72 hours to meld ingredients.