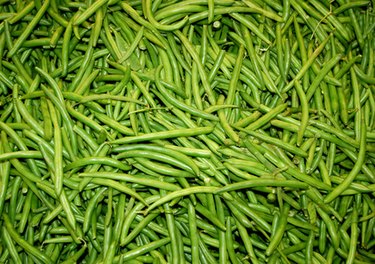 A green bean casseroles can be a side dish addition to your dinner. Common ingredients in the green bean casserole include raw onions, fried onions, cream, cheese, salt and pepper. Make this side dish healthier by using ingredients such as 1 percent milk and omitting the cheese. When freezing a green bean casserole, use fresh, raw green beans because the beans will retain their nutrients and will not become watery when the casserole is cooked.
Step 1
Prepare the green bean casserole sauce and then add the fresh green beans into the sauce. Allow the mixture to cool.
Step 2
Add the mixture to a plastic bag. Carefully remove the air as you seal the plastic bag. Wrap a layer of foil around the plastic bag. The green bean casserole is now ready for a future dinner. Do not thaw the casserole when you are ready to prepare it.
Step 3
Unwrap the casserole from the freezer when you are ready to cook it. Place it into a casserole dish and bake it in the oven at 400 degrees Fahrenheit for 30 minutes.