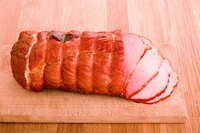 Heating a fully cooked ham in a pressure cooker can be a healthy way to prepare a ham. A good quality ham is naturally a lean piece of pork. When heated in a pressure cooker, you are left with ham that is moist and tender with virtually no fat. Now you can prepare a ham for your family and feel good about feeding it to them.
Things You'll Need
Fully cooked ham
Pressure cooker
2 cups pineapple juice
Sliced onion
1/4 cup brown sugar
1 tsp. dry mustard
Meat thermometer
Place ham in the pressure cooker with the fat side up.
Pour in 2 cups of pineapple juice.
Sprinkle in 1/4 cup brown sugar.
Seal the pressure cooker.
Cook the ham on a low setting for 30 minutes.
Insert meat thermometer into ham. When the temperature reaches 140 degrees Fahrenheit, your ham is ready.
Remove your ham when it's cooled.