Things You'll Need
Screwdriver

Tarp

Vibrating sander

Sandpaper in various grits

Rags

Cherry wood stain

Paint brush

Polyurethane gloss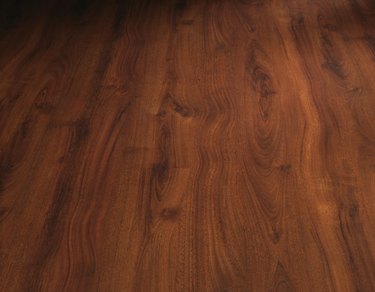 Cherry wood cabinets are among the finest kind you can buy, and one of the most expensive. But you can get that rich, dark, slightly reddish look on cabinets made of oak or other woods by refinishing them with cherry wood stain. The stain seeps into the pores of the wood and darkens it, then is sealed in with gloss. See your local home improvement store for the right stain and the necessary brushes and polyurethane.
Step 1
Unscrew and remove all the hinges and other hardware from the cabinetry. Lay out the parts on a tarp.
Step 2
Sand down the surface of the cabinet with a vibrating sander and heavy sandpaper to remove the existing finish and expose the bare wood of the cabinet. Sand all the parts as well.
Step 3
Sand the whole surface a second time using fine sandpaper to get the wood smooth and clean. Wipe off all the dust.
Step 4
Paint the wood surfaces with a heavy coat of cherry wood stain, letting the stain gather and pool. Allow it to sit for a minute, then wipe up the surface liquid with rags, leaving behind just the stain that's soaked into the wood. Assess the surface, and apply a second layer of stain if it's not as dark as you want it.
Step 5
Let the stain set for a full day.
Step 6
Paint the cabinet with a coat of polyurethane, brushing it on in a smooth, even layer. Let it dry for at least 6 hours.
Step 7
Lightly sand the dried polyurethane with fine sandpaper, by hand, to dull the gloss so the next layer will adhere. Brush on a second coat of polyurethane gloss in the same manner as the first. Let it dry for at least 6 hours.
Step 8
Lightly sand the second layer of polyurethane, then apply a third layer. Let it dry for a full day. Re-assemble the cabinet.
Warning
Wear rubber gloves when staining the wood to avoid also staining your hands.